Here are some special releases from the Harlequin Romance authors that might make your holidays a little brighter!
In time for Remembrance Day, check out LOVING OUR HEROES:
Jessica Hart / Amy Andrews / India Grey
Special Releases
November 2011
£1 donation to Help for Heroes for every book sold.
They risked their lives for their country… Now their hearts are on the line!
Included in this anthology: Last Minute Proposal, Mission: Mountain Rescue & Mistress: Hired for the Billionaire's Pleasure
1st story: In a charity competition curvy cake-baker Tilly is paired with ex-military chief executive Campbell Sanderson. For the rugged tycoon it's the winning that counts, but bubbly Tilly coaxes a show-stopping kiss!
£1 from the invoiced price of each Book will be contributed to Help for Heroes Trading Limited which Gift Aids all its taxable profits to Help for Heroes (Registered Charity Number 1120920).
Rebecca Winters / Marie Ferrarella / Shirley Jump
Special Releases
November 2011
by Rebecca Winters, Marie Ferrarella & Shirley JumpIncludes: The Sheriff's Christmas Surprise City lawyer Olivia's come to claim the sweet baby boy that Sheriff Rick loves as his own. Yet could she bring Rick some yuletide comfort and joy too? Also includes: Santa in a Stetson and Family Christmas in Riverbend.
Maggie Cox / Alison Roberts / Fiona Harper
By Request
December 2011
The Spanish Billionaire's Christmas Bride Billionaire Cristiano Cordova is determined his late cousin's child will be raised by the Cordova family – not by some gold-digger… Only Dominique Sanderson is a devoted mother, living in a shabby bedsit. Despite her delicate appearance she stands up to Cristiano . So he'll take her and the baby back to Spain…Christmas Bride-To-Be Dr Jack Sinclair turned his back on love – a long time ago! Now, stranded and rescued by vivacious Jill Metcalf, Jack's belief in Christmas miracles starts to return… Working with Jill at the local hospital to give the children a Christmas Day leaves Jack convinced that he's finally found a home. If he can claim a bride under the mistletoe…Christmas Wishes, Mistletoe Kisses Three wishes…1) A new life in the country: Louise Thornton's starting again with her young son!2) Someone to help decorate the Christmas tree: a meltingly attractive landscape architect makes her sparkle again.3) A proposal under the mistletoe?
Lucy Gordon / Caroline Anderson / Alison Roberts
By Request
November 2011
The Italian's Christmas Miracle Brooding Italian Drago di Luca and lawyer Alysa Dennis are brought together by a shocking betrayal. But they strike an unlikely friendship and forbidden awareness simmers… As Christmas approaches could the joy of the season make the two of them and Drago's motherless child a family? A Mummy for Christmas Consultant Kate Burgess is intrigued. Her gorgeous new surgeon is so talented – but why is he always late? Because, she discovers, he's alone with two small children. If he asks her to marry him, maybe this Christmas all their dreams can come true! The Italian Surgeon's Christmas Miracle Nurse Amy Phillips has two things she has to do this Christmas – look after six children and save their house from the ruthless new owner! Billionaire surgeon Luke is faced with evicting this vibrant brood from the house he's inherited, but he can't be such a bad guy… And when Amy welcomes him into her life, he experiences a Christmas miracle of his own…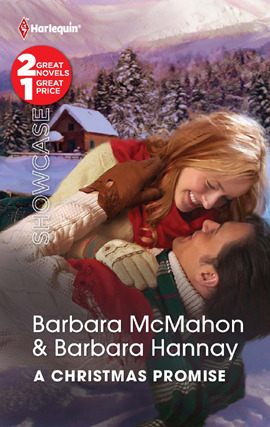 Snowbound Reunion by Barbara McMahon
Cath Morgan knows she was right to spend Christmas alone, far away from the city and her husband, Jake. For six years, Cath has dreamed of more from her marriage—a husband who isn't off globe-trotting, and a home ringing with children's laughter. But Jake isn't about to let his wife go so easily. He has one Christmas to prove how much he loves her...and share the secrets that have kept him away.
Christmas Gift: A Family by Barbara Hannay
Happy with his life as a wealthy bachelor, Hugh Strickland is stunned to discover he has a daughter! He wants to bring her home, but he's absolutely terrified. So Hugh pleads with Jo Berry to help him. While Jo is happy to see the father and daughter get closer, she realizes that soon she'll no longer be needed. But surely the ideal solution would be to give each other the perfect Christmas gift—a family.